The coronavirus pandemic has significantly affected the Port of Rotterdam, which reported a 9.3% drop in first quarter throughput compared to the same period last year.
A surprise result when compared to the Port of Anwerp statistics, which seems to have ridden the Covid-19 crisis for now. Antwerp marked a 4% growth in total freight volumes in the first quarter.
The Dutch port handled a total throughput of 112.4 million tonnes in 2020 first quarter, while the container sector saw mixed results. Rotterdam reported volumes of 3,549,670TEU, a 4.7% decrease. However, there was a rise in deep-sea and feeder containers, while short sea fell by 4.5%.
Read the quarterly figures for the Port of Rotterdam
According to the port authority, the underlying causes were the weaker European economy during the last six months and stagnating world trade due to trade conflicts.
The impact of the corona crisis was apparent to only a limited extent in late March as a fall in goods from China after the partial lockdown there in February, Rotterdam port said. Seagoing vessels take four to five weeks to complete the journey, which means that the effect in Rotterdam will be felt later. The volume of containers from Asia was 2.8% lower than in the first quarter of 2019.
Allard Castelein, CEO of the Port of Rotterdam Authority commented, "We are facing unprecedented disruptions and the port of Rotterdam, as a vital process, intends to continue contributing to society. The impact of a decline in demand due to the corona crisis will become clear from April onwards.
A 10 to 20% drop in throughput volume on an annual basis would seem to be very likely. This will depend on how long the measures remain in place and on how quickly production and world trade recover."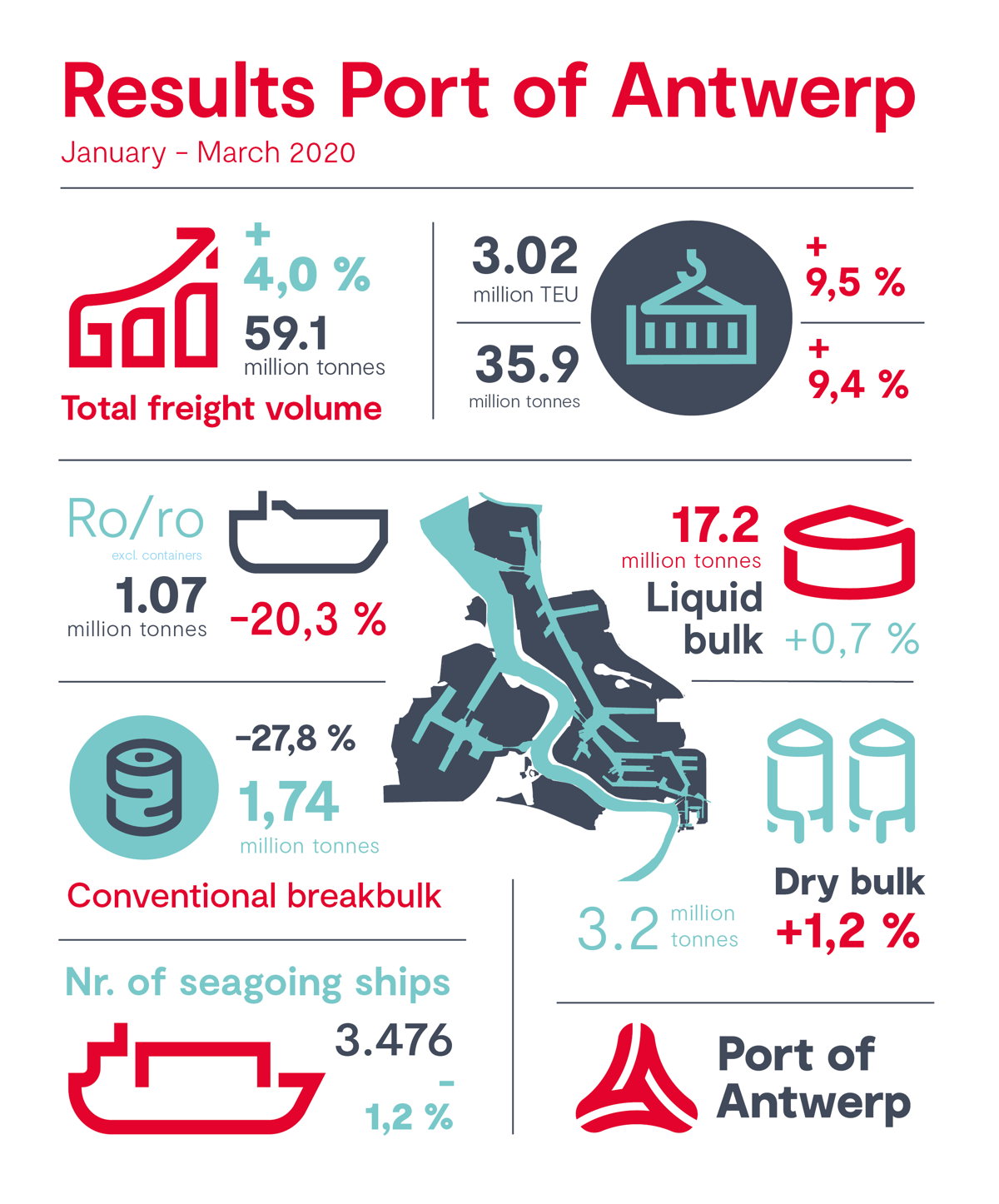 On the other hand, box volume was the main reason for the overall throughput growth in the port of Antwerp. "The container volume in particular made up for the decline in other freight categories such as conventional breakbulk and vehicles," pointed out the port.
With growth of 9.5% in TEU (3.02 million TEU) the container trade remains by far the largest segment in the Belgian port. There was a noticeable increase in the amount of pharmaceuticals and e-commerce goods, and there was higher demand for long-life foodstuffs. With the exception of a slight decline in goods from the Far East (down 2.2%) all trading regions experienced strong growth.
Port of Antwerp CEO, Jacques Vandermeiren, declared, "Thanks to its worldwide connectivity and the diversity of its trade, Port of Antwerp is less dependent on specific markets. Moreover the port has enormous storage capacity that can act as a buffer for the economy, which will permit faster restarting of industry and recovery of consumption in Belgium and parts of Europe."
Antonis Karamalegkos
Editor