An Ultra Large Container Vessel (ULCV) operated by Ocean Network Express (ONE) was involved in a collision with a bulk carrier in the Straits of Malacca at 12.03am local time on 11 July.
The 15,000TEU Zephyr Lumos is understood to have sustained damage to its starboard after a collision with the 2010-built 76,000 dwt bulk carrier Galapagos, which belongs to Greek owner Sea Traders. None of the 49 crew members on both ships were hurt.
The Malaysia Maritime Enforcement Agency (MMEA) director, Nurul Hizam Zakaria, said that it is believed that the bulk carrier, Galapagos, had sustained a rudder failure, causing it to move to the right and collide with Zephyr Lumos.
Nurul noted that the collision happened about 14.1 nautical miles south-west of the Sungai Muar estuary and the MMEA personnel sailed to the scene after crew on Zephyr Lumos sent an emergency signal.
Built by Hyundai Heavy Industries in January, the six-month old Zephyr Lumos, along with three sisters, are on long-term charter to ONE from Zodiac Maritime and have been deployed to THE Alliance's Asia-Mediterranean service.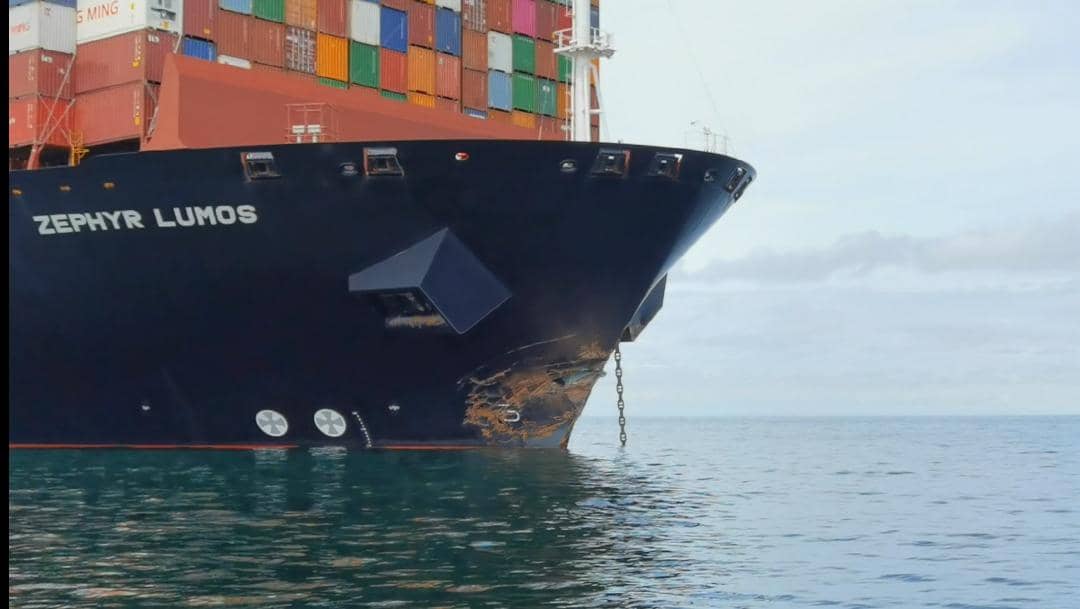 Vessel-tracking data showed that Zephyr Lemos had departed Singapore's Pasir Panjang Terminal on 10 July and was on its way to the Suez Canal when the accident happened.
"Early investigations by the Johor MMEA showed that there is some damage to MV Galapagos as well as some oil spillage," added Nurul. "Both ships have been detained to assist in investigations by the Marine Department and the Environment Department (DOE)."
A spokesperson for ONE told Container News, "We're still investigating details and we don't have information to share with the public yet."
Additionally, the accident caused the hull of Galapagos to be breached, while the ship was on its way from Gladstone, Australia, to Visakhapatnam, India.
Akibat jarak yang terlalu hampir menyebabkan MV Zephyr Lumos tidak sempat mengelak dan terlanggar MT Galapagos. Kru kedua-dua kapal tidak alami kecederaan. Berlaku tumpahan minyak. Kes disiasat Jabatan Laut Malaysia dan Jabatan Alam Sekitar. pic.twitter.com/88HyJ9xDF4

— Malaysia Coast Guard (@MYCoastGuard) July 11, 2021
Martina Li
Asia Correspondent