METRANS has decided to expand its activities in Romania, launching a new regular connection between Budapest and Arad.
The new rail service, which is already fully operational, links METRANS HUB terminal Budapest Csepel with AFLUENT Terminal Arad three times per week with the following timetables: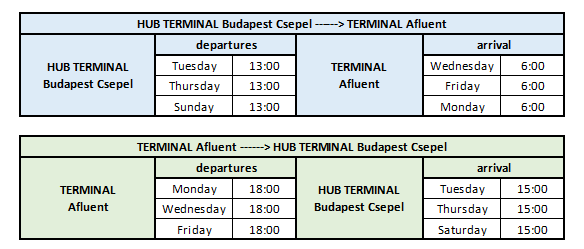 "Together with partner AFLUENT we will develop also the depot activities, first/last mile trucking services. We are looking forward to further increasing our common cooperation through this route too," said HHLA-owned METRANS in its statement.
The new product was a result of an increasing number of requests about an expansion of METRANS in Romania, according to a statement.
"With the new connection, there are also opportunities for the Port of Hamburg to gain new volumes. There are already many inquiries," said Krisztina Kovács, head of the Port of Hamburg Marketing Representative Office in Budapest.
The connection is expected to ensure the transport of containers not only between Romania and the ports of Hamburg, Bremerhaven, Rotterdam and Koper but also with all destinations within the METRANS distribution network in countries such as Germany, Austria, the Czech Republic, Poland, Slovakia, Hungary and others.