The largest LNG-powered container ship in the world, CMA CGM Jacques Saade has joined CMA CGM Group's fleet.
The new flagship of the Marseille-based shipping company is the first of a series of nine 23,000TEU container vessels, a homogeneous LNG-powered fleet flying the French flag.
CMA CGM has made the symbolic choice of naming its newbuilding after its founder, Jacques Saadé.
The new vessel will start its maiden voyage as of 23 September on the French Asia Line (FAL), CMA CGM's crucial line between Asia and Northern Europe.
Its rotation will lead it to the ports of Busan in South Korea; Tianjin, Ningbo, Shanghai and Yantian, China; Singapore; Southampton, Dunkirk, Hamburg, Rotterdam, Algeciras in Europe; and Port Kelang in Malaysia.
The specific line provides a weekly service comprising 13 calls over the course of 84 days.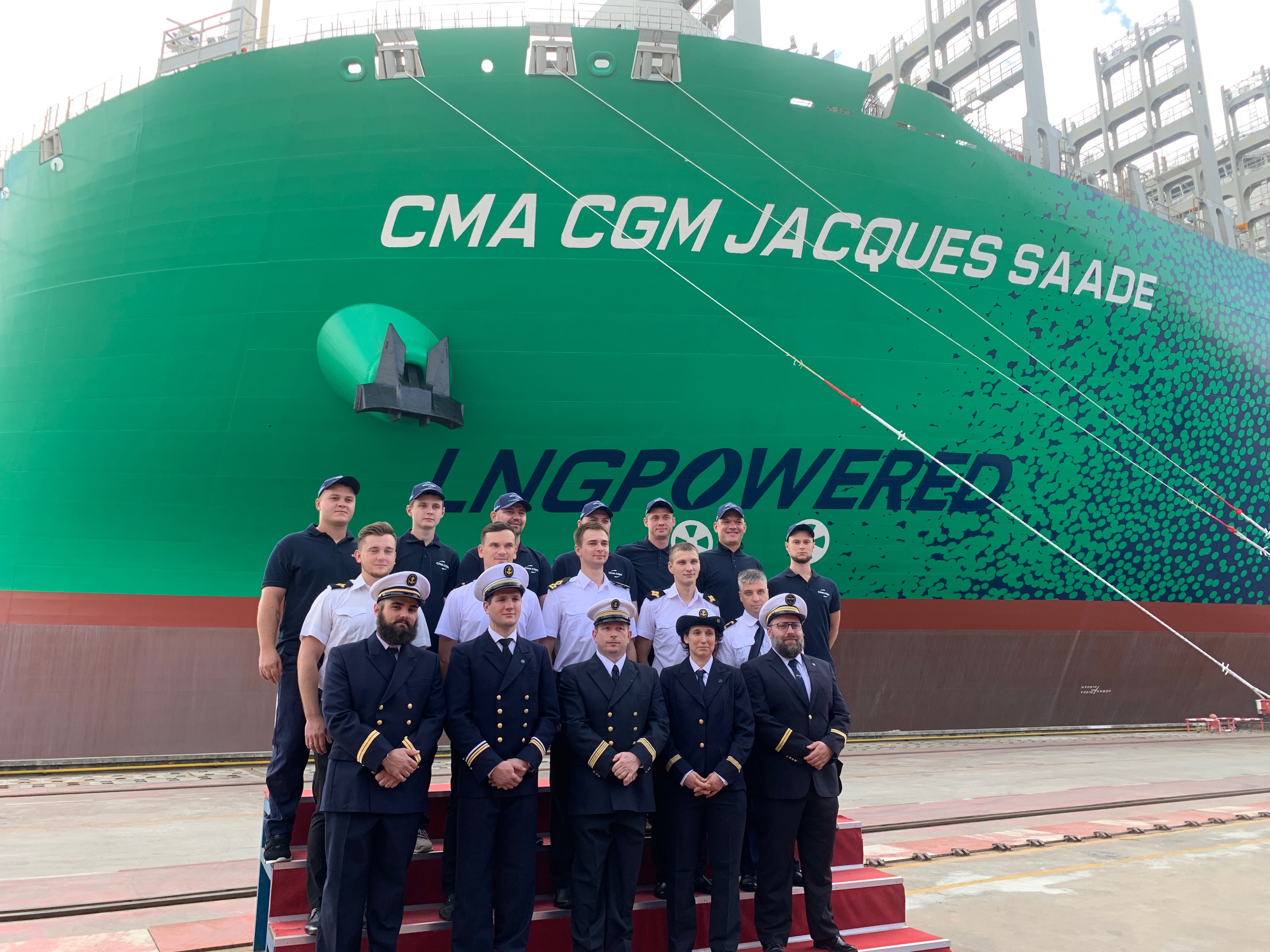 "This vessel has been enhanced with the latest technologies and is the result of seven years of research and development," commented Rodolphe Saadé, chairman and chief executive officer of CMA CGM. "While guaranteeing the safety of our crew, it preserves air quality and will be part of our fight against global warming."
In November of 2017, Saadé decided to equip this series of container ships with LNG-powered engines – a first in the history of shipping for ultra large container vessels (ULCV).
These nine vessels are packed with innovations, the result of a long co-operation between CMA CGM's research and development experts and industrial partners.
In addition to LNG power, the vessels offer the following technologies:
The cockpit boasts the latest embedded digital technologies to assist the commander and crew, in particular for port manoeuvres
They feature a redesigned straight bow with an integrated bulb, a redesigned rudder, and a redesigned propeller all of which substantially improve the vessels' hydrodynamics, thereby reducing energy consumption
Furthermore, these nine ships bear a specific "LNG Powered" label that will be recognisable on all seas across the globe.
CMA CGM has mentioned that a number of specialised companies participated in this landmark construction project, including water systems specialist BIO-UV Group, Shanghai's shipyards CSSC, technology expert Cryostar, classification company Bureau Veritas, winches and windlass provider BLM, technology and engineering company GTT, industrial group Schneider Electric, UK-based Sperry Marine, energy producer and provider Total, Port of Rotterdam, gas provider Wartsila and engine designer WingGD.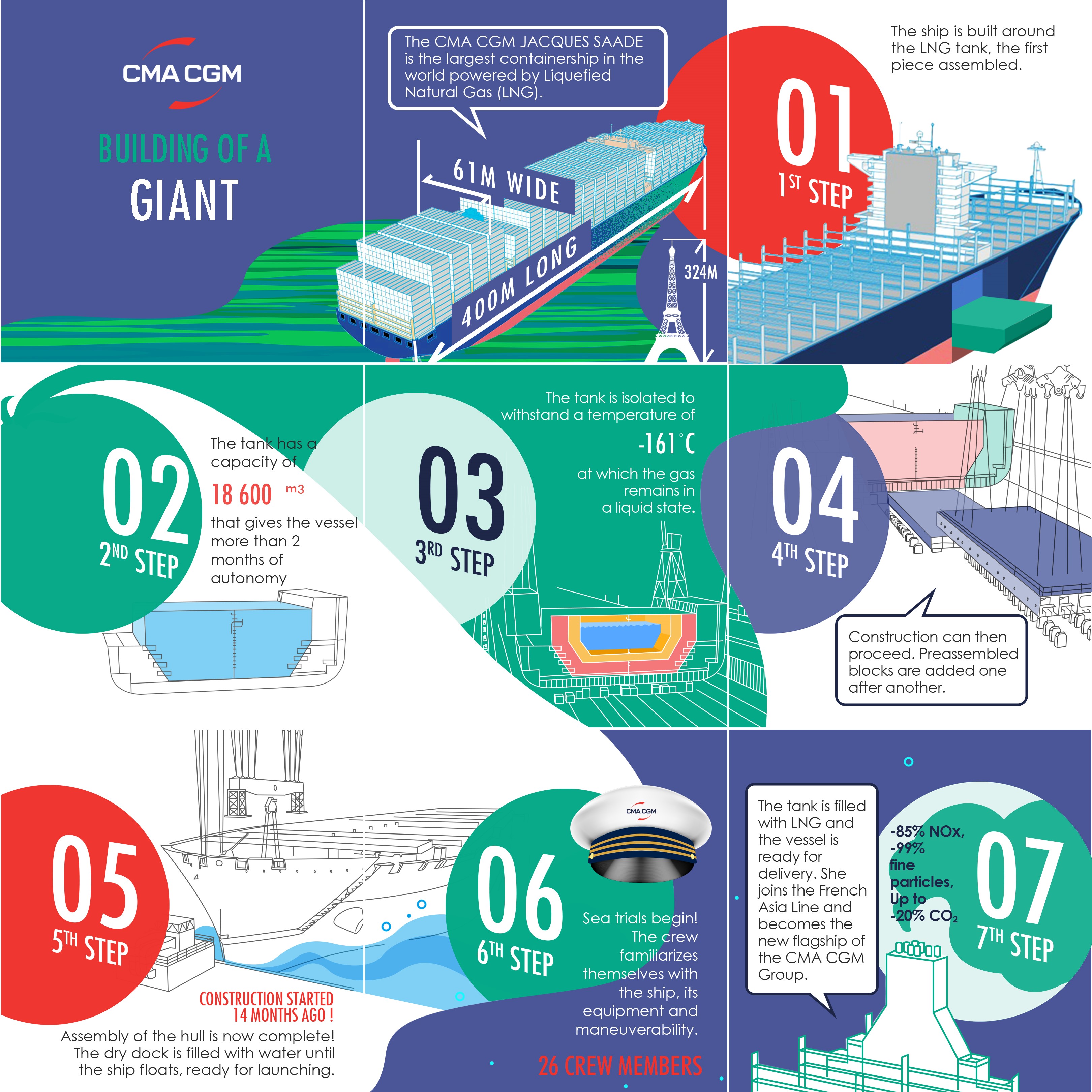 The CMA CGM Jaques Saade, along with its eight sister ships will be registered at the French International Register (FIR) and will bear the names of landmark Parisian monuments and other renowned venues and institutions from throughout the French capital (Champs Elysées, Palais Royal, Louvre, Rivoli, Montmartre, Concorde, Trocadéro, and Sorbonne).
Today, LNG is the most advanced solution when it comes to preserving air quality, while it enables a 99% reduction in sulfur dioxide and fine particle emissions, and an 85% reduction in nitrogen dioxide emissions, going well above and beyond existing regulation. Additionally, LNG emits up to 20% less CO2 compared to fuel oil.
This technology is one of the first steps towards achieving CMA CGM Group's 2050 objective of carbon neutrality.