For some trade corridors, September 2018 has proven to be a month of uncertainty due to tariffs causing slight frenzy from shippers and carriers taking the opportunity to jack up rates. Golden Week is also inching up giving carriers even more open waters to see what they can do before year end. Here is a rundown of the latest September ocean freight rate developments as seen in Xeneta for the trans-Pacific, Asia-Europe, Asia-Australia and Asia – South America corridors.   
Far East - US West Coast
Carriers operating on the US West Coast trade have been the beneficiaries of several rate increases in the past few months and while rates have dropped off slightly over the past week, they have managed to maintain most of the increases.
Over the seven days rates have fallen by just 1.2% to $2,276 FEU, while they're still 3.7% higher than the end of August.
Fig 1: Far East Main to US West Coast ($FEU)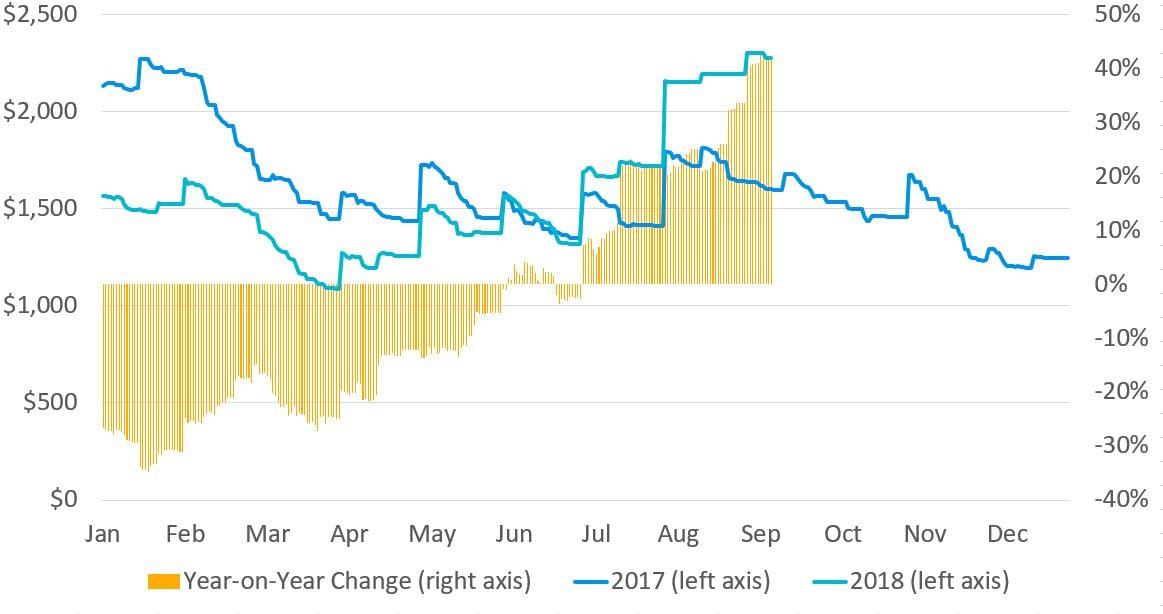 Note: Year-on-year rate increases recorded since July have coincided with President Trump's import tariffs of 25%. 
Far East - North West Europe
Meanwhile, the Far East - North West Europe trade has finally surpassed rates recorded during the same period of 2017. Although rates in February were on par with those recorded at the same time in 2017, it marks the first time this year that rates have meaningfully broken through.
Although rates have climbed by just $66 FEU (3.8%) since the end of August, they are now 4.7% higher than at the equivalent point in 2017, thanks largely to a drop off in rates seen during this time last year.
Fig 2: Far East Main to North West Europe ($FEU)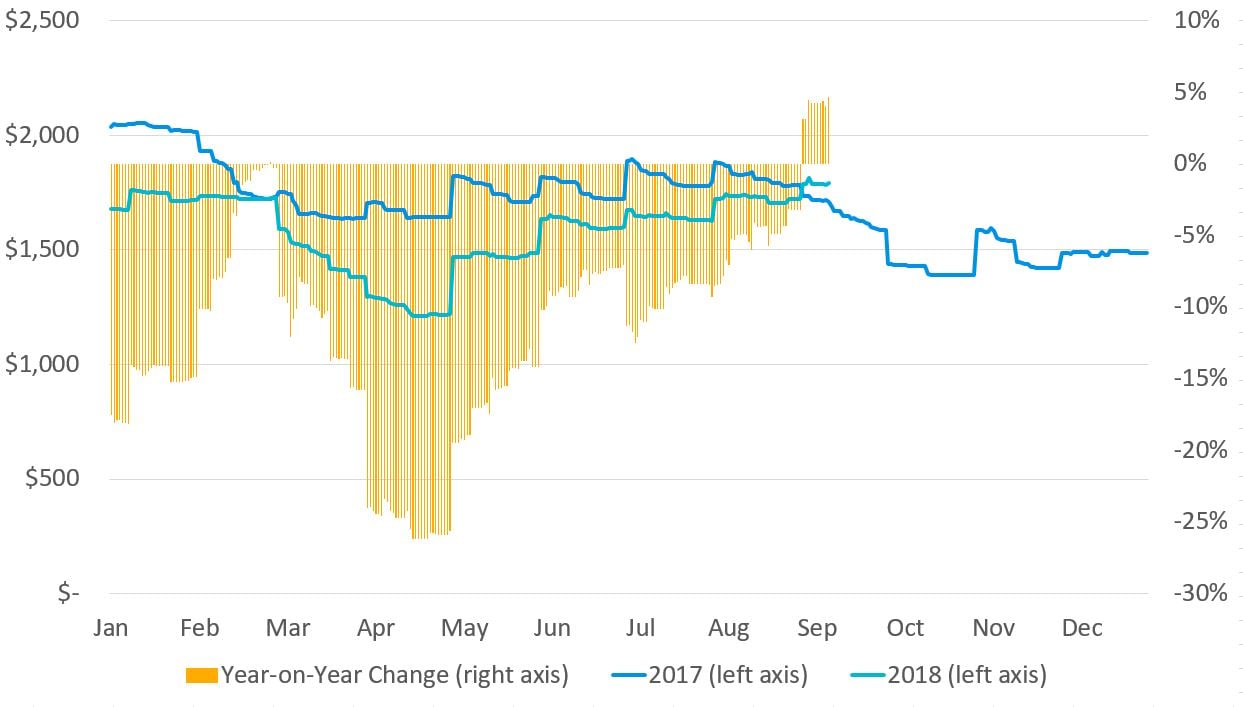 Note: For the first six months of the year, rates on the Far East - North West Europe trade have lagged behind levels recorded during the same period of 2017.
However, with CMA-CGM recently publishing FAK rates of $1,800 FEU effective September 24th, perhaps signaling its intentions to get ahead of rate declines or simply to undercut the market, rates will likely follow last year's trend. In comparison the French line proposed an FAK rate of $2,000 FEU for the start of September, whilst Hapag-Lloyd is seeking to implement a rate of $2,000 FEU effective September 25th.
Read more on Xeneta.